My very first project when we moved to our new home was to paint the kitchen cabinets.  They are really nice quality cabinets, but I just didn't like the oak finish.  Here are the before shots.
We were scheduled to have new flooring installed on the whole main level, so I wanted to do this project before that.  I had a little experience with painting kitchen cabinets at our previous house.  I painted those a bright white and I hand brushed all of them. This time I decided that I would try to spray them.  I got this sprayer and gave it a try. I first took off all the doors and drawers, cleaned with TSP and sanded everything.  Then I used an oil based primer.  I had it tinted to the gray that I was using.  I hand painted the base cabinets and island because I didn't want to make a mess in the house with the sprayer.  Then I lined up the doors in the basement and used the sprayer.  I wish I had taken more pictures, but this was before I started my blog, so I didn't think about it!
I new that I wanted a gray color, but took a while to pick out the shade.  I liked the white cabinets in our previous house, but they showed every little bit of food or dirt (especially around the door handles.)  The white also ended up yellowing a little bit too.
I decided on the color Chelsea Gray from Benjamin Moore and I love it!
It is such a nice neutral shade.  In the future I would like to change the counter top and sink.  I also changed the door and drawer hardware.
I love the finish that the sprayer gave.  There aren't any brush marks and it is such a nice, professional looking finish.
The primer that we used was this.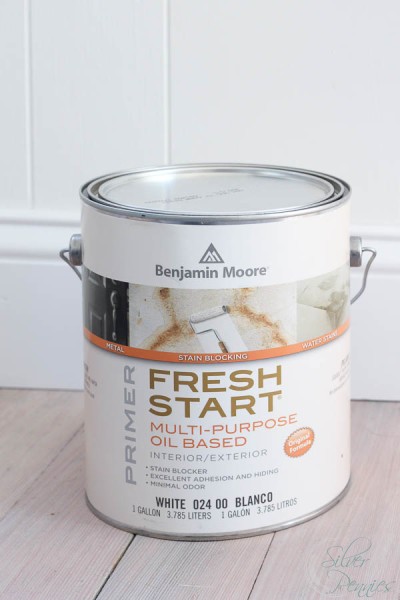 And the paint was this.
Here is some more before and afters.
I love the way it turned out!
Please let me know what you think!  Thanks for stopping by!